A quick update on Supporting Hands activities during first half of 2018.
Education Project
Supporting Hands continue to make good progress with the Education project. This remains the main focus of Supporting Hands Activities. Currently, Supporting Hands is providing financial support for educational fees for 91 students. All the students are either from the family of a Shaheed or from deprive background. All the students progressed to the next year of education. 3 of the students scored top marks in the board exams of Federal Board of Pakistan. The breakdown of students are as follows:
8 – Senior Students
35- Senior School Student
40- Junior School
8- Reception
Senior students are studying for Chartered Accountancy, Degrees in zoology, sociology and other science group. Geographically, these students are in Karachi and Northern Pakistan. Our target is to reach 150 students by year end.
Ramazan Campaign
Our Ramazan Campaign activities was successfully completed. £3000.00 were raised for Iftar Ration. Alhamdulilah, Ramazan Ration was distributed to 181 families in Pakistan (Skardu, Parachinar, Lower Punjab, Quetta and Karachi).
The ration included Flour, Rice, different varieties of lentils, Oil, Ghee, Tea, Milk Sugar, concentrated drinks, vermicillies, gram flour, dates.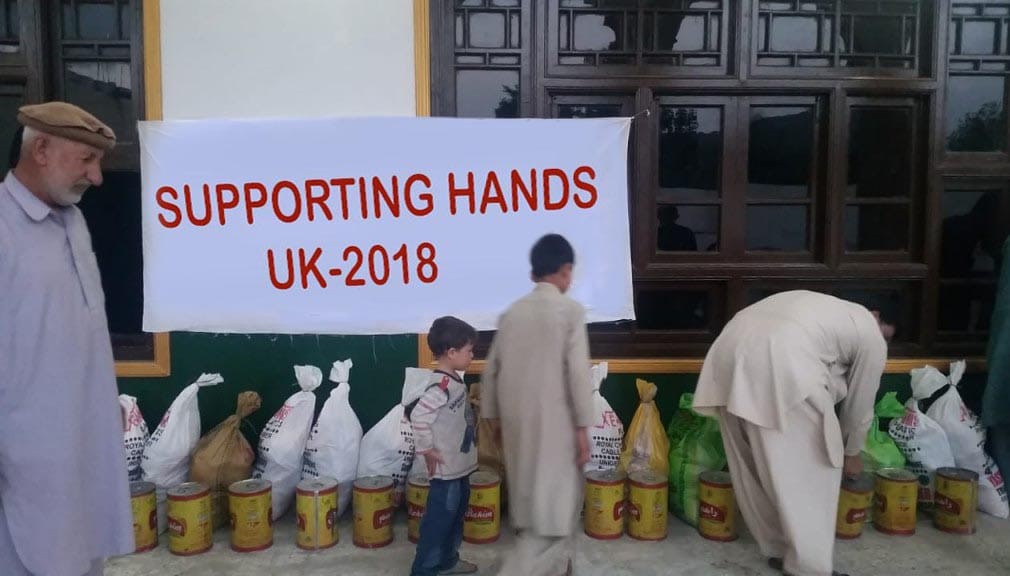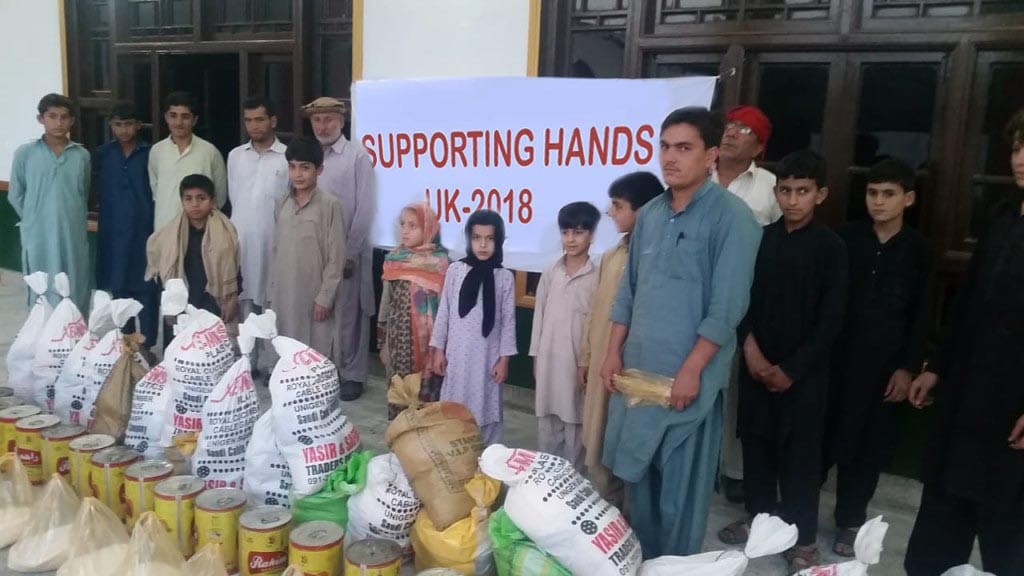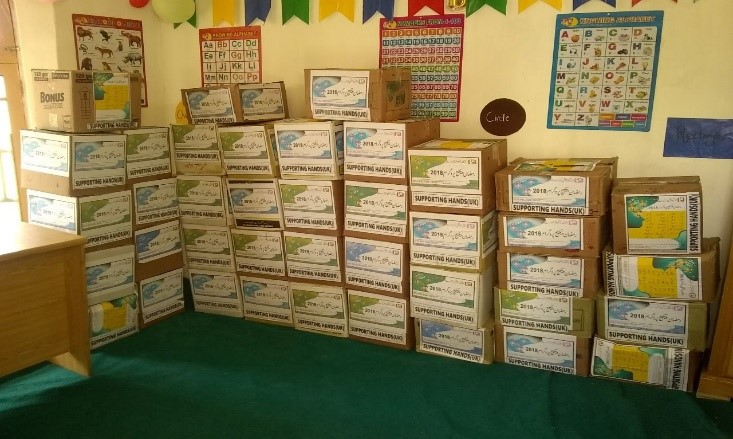 Looking forward to remaining 2018
Education Project: Will continue our focus on Education activities for supporting 150 students by year end. Our target is to raise £20,000, by October 2018. Supporting Hands is grateful to Donors for their support, who have committed £11,000.00+ (paid in advance or via monthly standing order). Supporting Hands will continue the campaign to achieve the target. Average fees per student is approximately £25 per month
Qurbani Campaign: Supporting Hands will launch this campaign in August 2018 with approaching of Eid-ul Azha. Last year campaign has been very successful with 26 Qurbanis and distributing qurbani meat among 200+ families in Pakistan.
Clothing Collection Campaign: Supporting Hands planning to conduct a limited clean good clothing campaign in the last quarter 2018.
Financials: Up to June 2018, Supporting Hands raised £10,290.00 for the Education and the Ramazan projects. This includes £3,000.00 raised for Ramazan Project and balance to Support Education activities (including advance payment of Fees for full year by some Donors).
June to date, Supporting Hands (UK) have spent £7,736.00. – £3,000.00 relating to Ramazan Ration Project and balance for Education activities. Included in the spending amount is £371.00 expense related to fund raising and financial charge by Banks for remittance of funds. Of £371.00, £214.00 are processing charges by Just Giving and £157.00 remittance charges of the Bank. There is no other admin expense. £371 is donated by Trustees. 100% of the donations received are used for the project.
Thanks!
Sincere thanks to all Donors for their support in this great cause. Your ongoing support is helping 91 students to change their life forever by educating themselves. Jazakallah Khair
A big thank you to all the volunteers who have helped the Charity to raise the funds for the above causes. Without the support of Donors and help from volunteers, Supporting Hands (UK) would not be able to carry out these activities.